Come See The Pearl Lady
She hand picked the best from the world's pearl farmers
Mon, February 23rd, 2015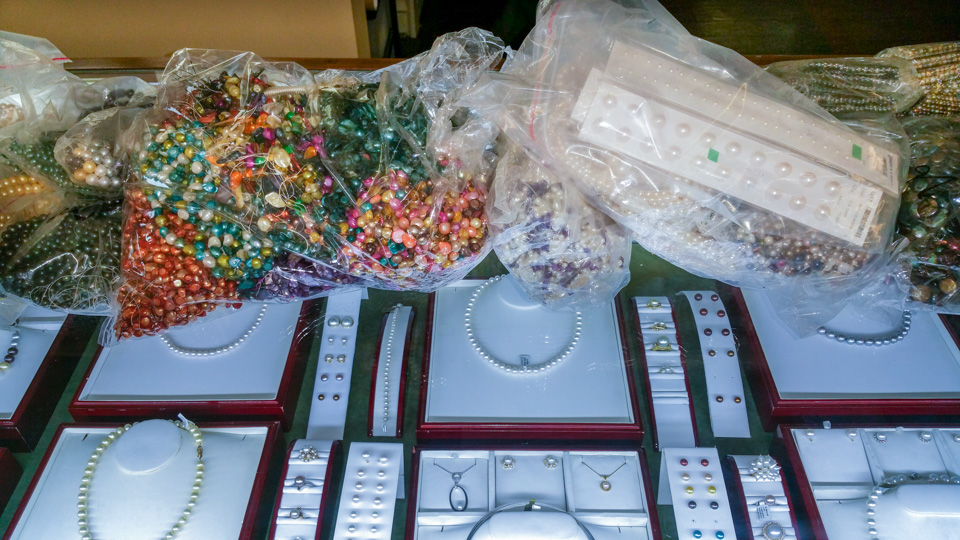 Norene found treasure in all shapes and price ranges at the world's largest gem and mineral show in Tuscon, AZ. Come see her pearls, hand picked from the pearl farmers' stock and lovingly strung by us. Compare the price and quality to your set of Mikimoto's® or that strand you bought in Hong Qiao. You'll be amazed at what we've brought to Columbus, GA.
-ep

Bespoke Jewelry
Just another day at the office.
Fri, January 30th, 2015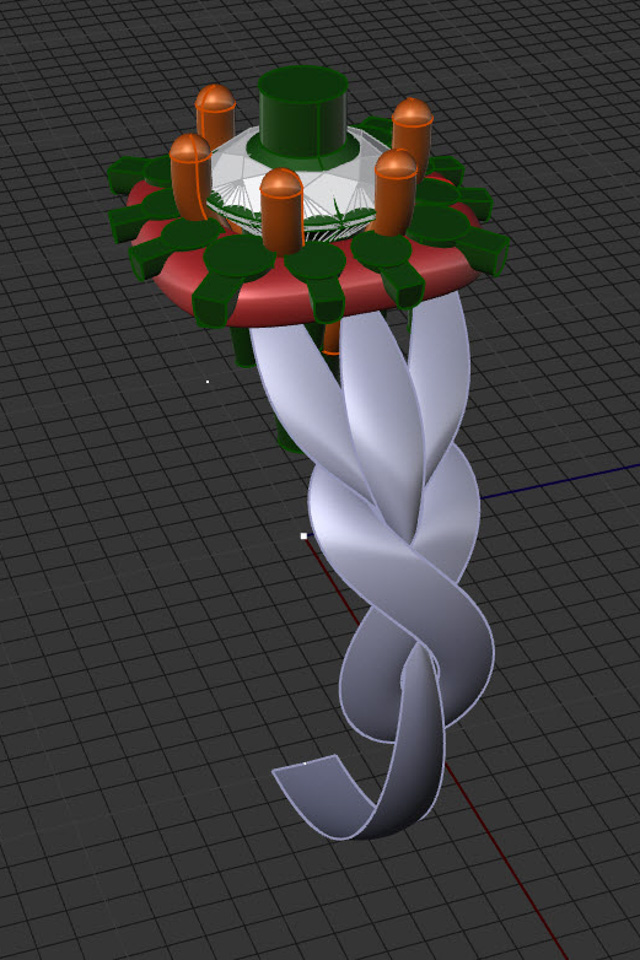 From our chicken scratch drawings we do at the counter, we start form finding until you say, "yes, that's it!"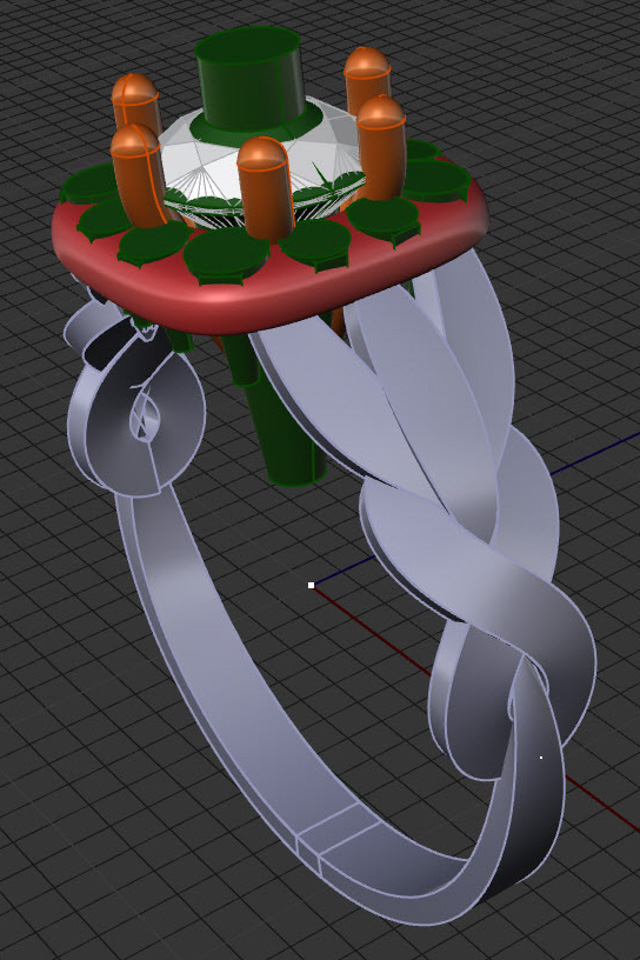 Next we finish your model. It's not pretty, but it's exactly what the setter needs to impart his craft.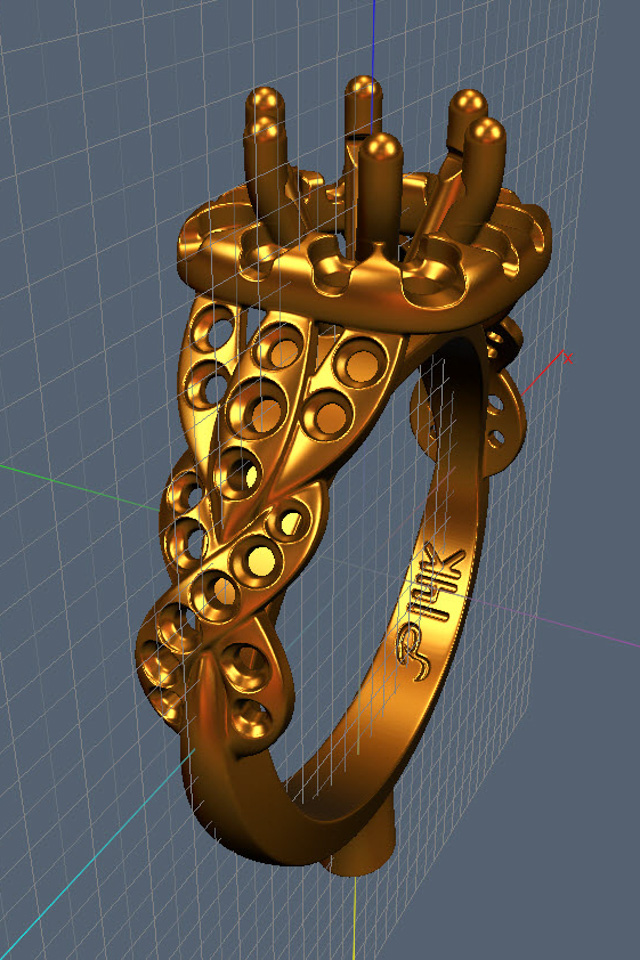 We give it a final pass in another program to join all the parts together, just the way the 3D printer likes it.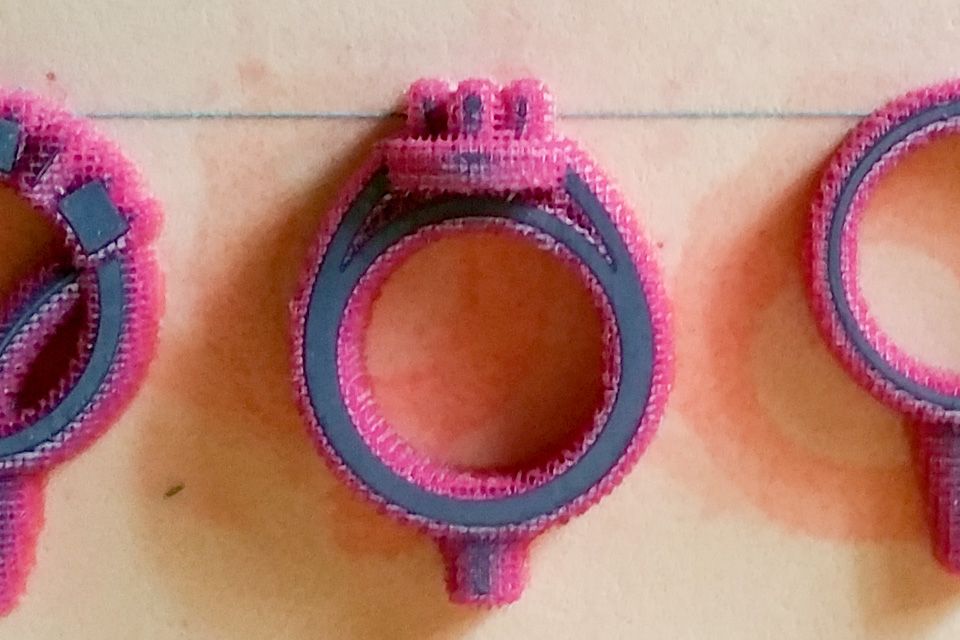 Now the model is off to print. It grows each piece one layer of wax at a time. The red support material is dissolved in a heated kerosene bath.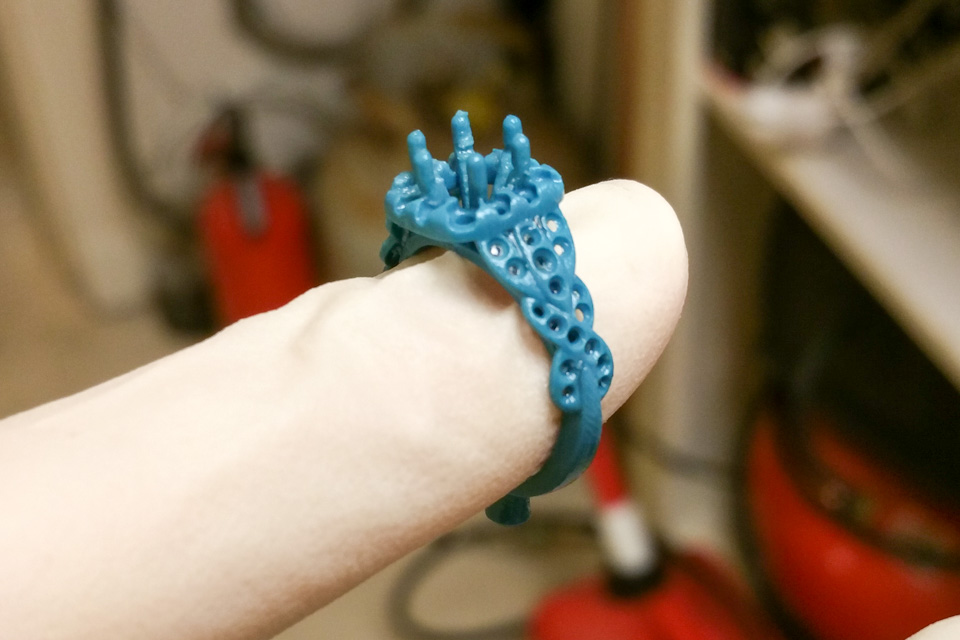 Your ring is ready to be placed in a gypsum plaster mold. Once the mold solidifies, it will fully cure over the next 10 hours in the oven. Most of the wax melts away quickly, but it takes a couple of hours at 1,350°F to fully burn away the remaining carbon. Then it's ready for us to literally throw molten metal into the cavity.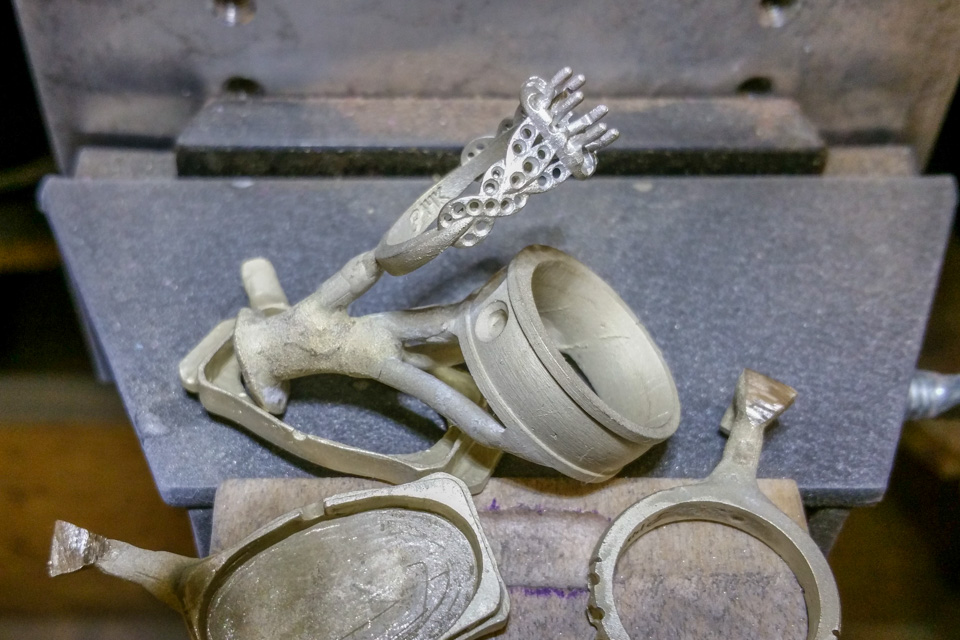 Even with a $50k, state of the art 3D printer there will be growth lines. It takes about an hour to remove each 12 micron layer by hand.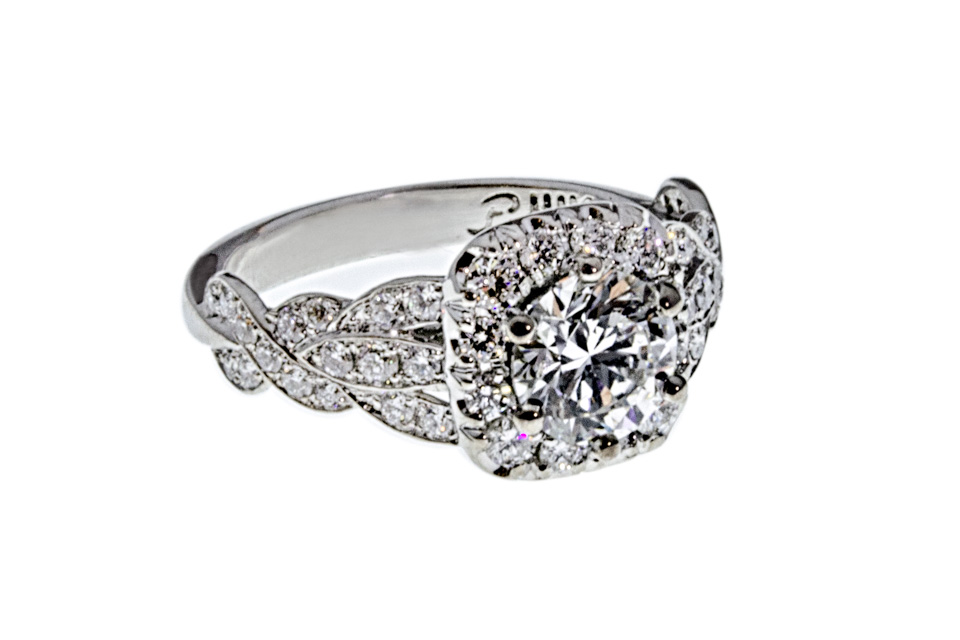 Once the setter is done setting, we snap a photo and call you. A few minutes later, there are hugs and even a few tears.
-ep

"SANTA'S COMING! I KNOW HIM! I KNOW HIM!"
"It's just nice to meet another human that shares my affinity for elf culture." -Buddy
Thur, December 4th, 2014
This Saturday, December 6th, Santa will fly to Columbus, GA to check in on his most trusted elfs. While the grown ups do grown up stuff, Santa and Mrs. Claus will entertain the kids. Last year they had a blast spending some quality time with ol' Saint Nick.
At the end of the day, I took this photo of mom and dad for the store's Christmas card.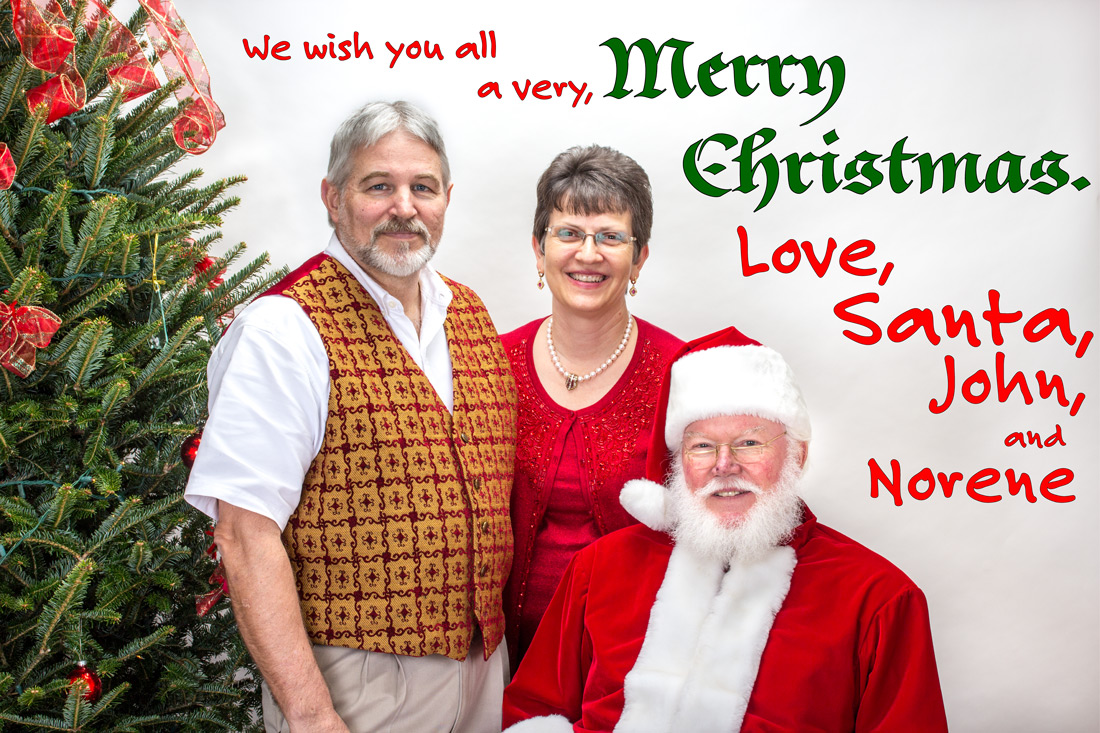 -ep

Holiday Hours Have Begun!
Just in time, but not a moment too early.
Thur, December 4th, 2014
Now that it's December, we will start our extended holiday hours. From now to until Christmas, we will be open M-F from 10 to 6 and Saturday from 10 to 3.
After the last job is picked up on the 24th, we will close for the 25th, 26th, 27th, and 28th for some much needed rest and family time.
-ep

Weracoba Creek Flooding
A crazy afternoon rain storm left Lakebottom underwater on September 3rd, 2014.
Sat, September 6th, 2014
-ep

Gemstone Showcase
Save The Date
Thur, August 28th, 2014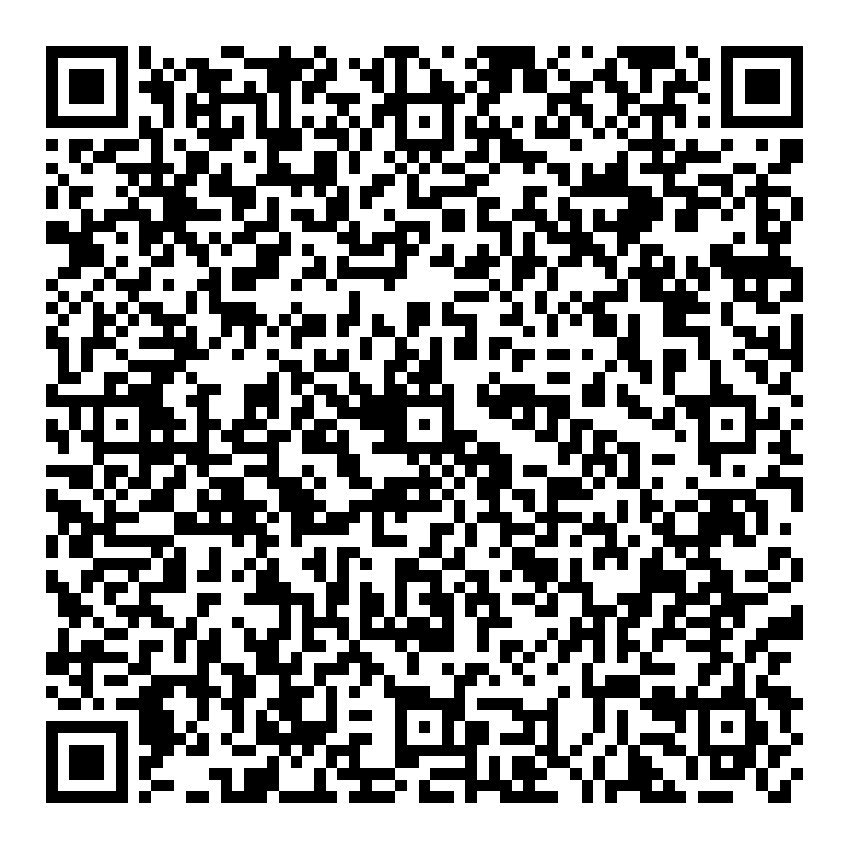 The Gemstone Showcase will be held on September 18th from 1PM to 6PM and September 19th from 10AM to 6PM. Save the date, because you don't want to miss this rare buying and educational event!
-ep

Gemstone Showcase
Over a 1,000 loose gemstones from all over the world are coming to John Paul's for a special Gemstone Showcase.
Thur, August 21st, 2014
Stay tuned for more information.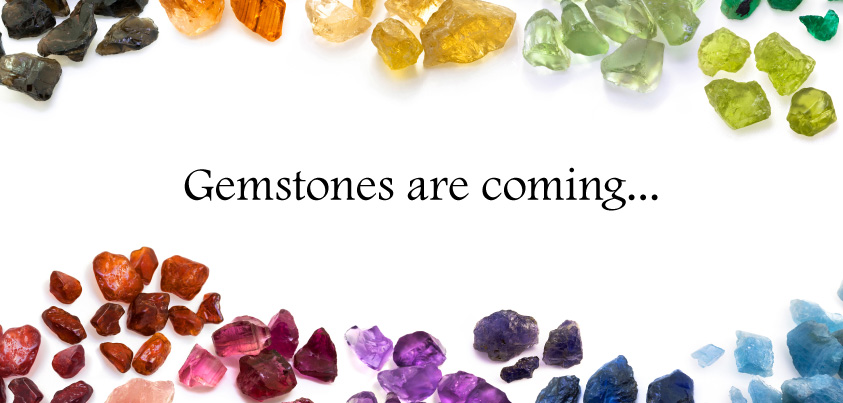 -ep

Making Jewelry Is In Our DNA
Our new Ft Benning base phone book ad featuring a recent custom diamond wedding set.
Thu, June 12th, 2014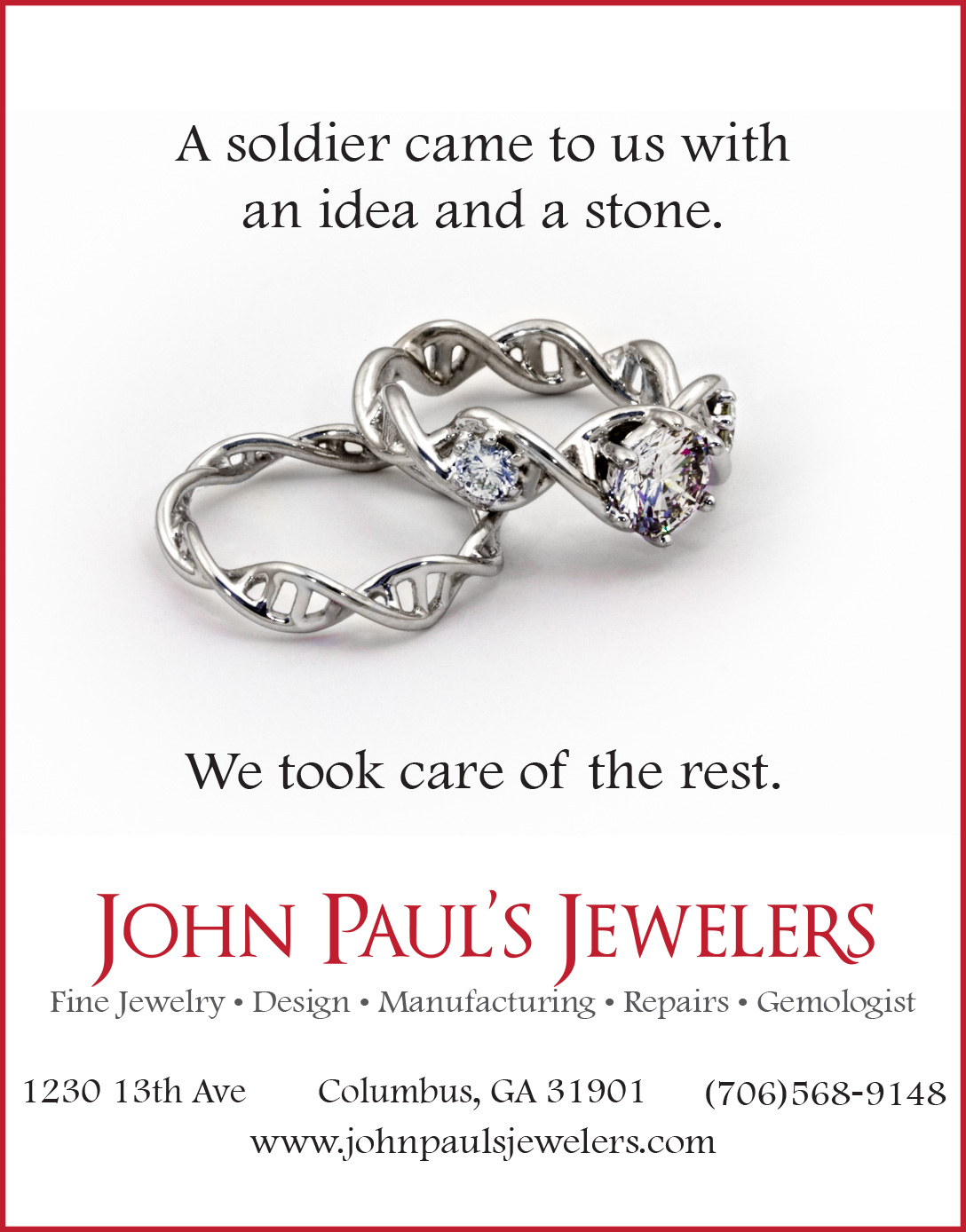 -ep

We Have Everything You Need For Mother's Day!
Mom deserves the best.
Wed, May 7th, 2014
-ep

We Have Everything You Need For Mother's Day!
Mom deserves the best.
Tues, May 6th, 2014
-ep

Valentine's Day Has Never Been Easier!
John Paul, your local jeweler and personal hero, has done it again.
Mon, February 3rd, 2014
-ep

Santa Is Coming!
Mr. Claus Recognizes Local Jewelry Store, Awards Trusted Elf Status
Thurs, December 5th, 2013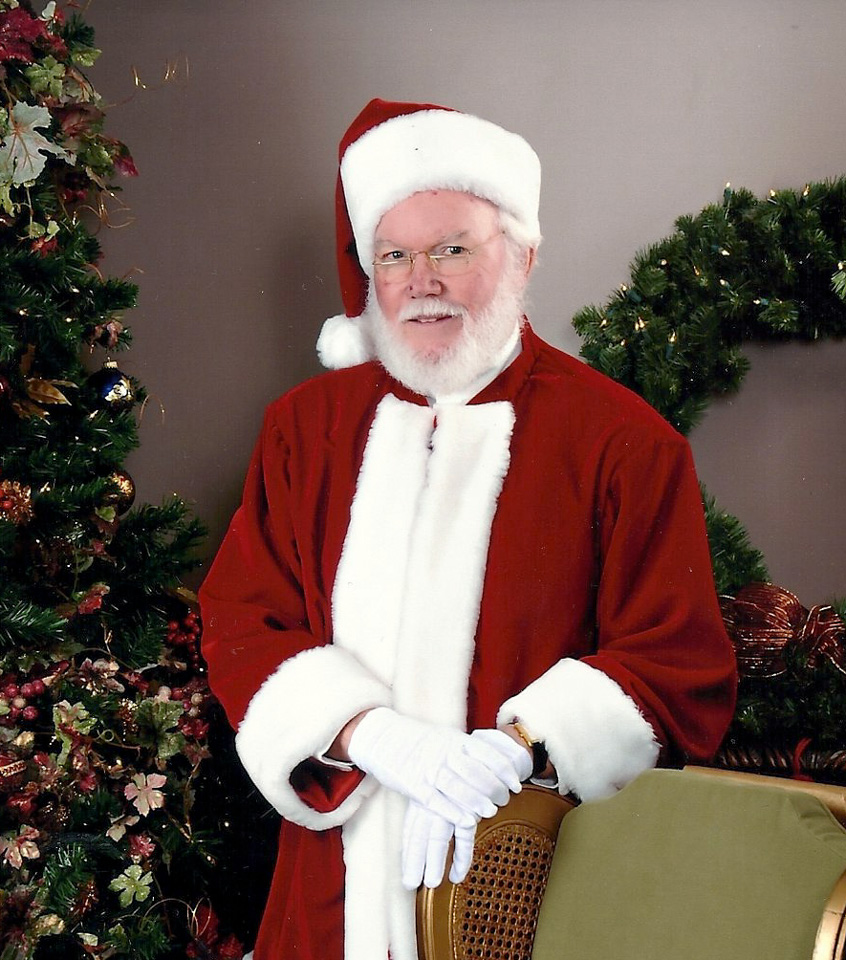 Santa Claus has selected his favorite jewelry store for Columbus, GA and the greater Chattahoochee Valley area. This Saturday, December 7th, he will fly down in person to award John Paul's Jewelers with the coveted Trusted Elf award.
After the ceremony, he will be on hand from 10AM to 4PM. There shouldn't be a line, so let your little ones interact with Santa while you work with some of his favorite elfs.
-ep

Black Thursday
...and Our Holiday Hours
Weds, November 27th, 2013
Black Friday has officially turned absurd and we will not participate.
The marketing hype machine that creates a false sense of urgency has gone too far. Black Friday is Thursday? I'm confused, I thought Thursday was Thanksgiving, one of the few holidays you get to see your whole family.
I know, Black Thursday is the only time you can get a big screen TV for a dollar. Congratulations to those 5 people. The rest of you, not wanting to go home empty handed, will buy another 'deal', which won't be much of a deal at all.
Think people. Mega money isn't being spent promoting Black Friday because retailers are giving away the store. They make a ton of money. It's an engineered frenzy, designed to induce bad decision making.
We will reopen on Monday. There will be no pressure to buy from us. The first 5 people will get a good deal, and so will the last husband we see Christmas Eve. If you need to find us over the weekend, we'll be with our family, probably on the sofa with pant buttons askew.
Thanksgiving Weekend
Dec 2nd – 24th
Mon-Fri, 10 to 6
Sat, 10 to 3
Dec 25th – 26th
Dec 27th - 31st (Same Day Ring Sizing Available)
Mon-Fri, 10 to 6
Sat, 10 to 3
Jan 1st - 5th
-ep

Grand Opening Ceremony
It's time!
Thurs, October 3rd, 2013
This Monday, October 7th we will be having our Grand Opening. Join us at 1:00 PM for the ribbon cutting ceremony with Mayor Teresa Tomlinson. Stick around for dessert with the Ice Cream Girl and her pink ice cream truck.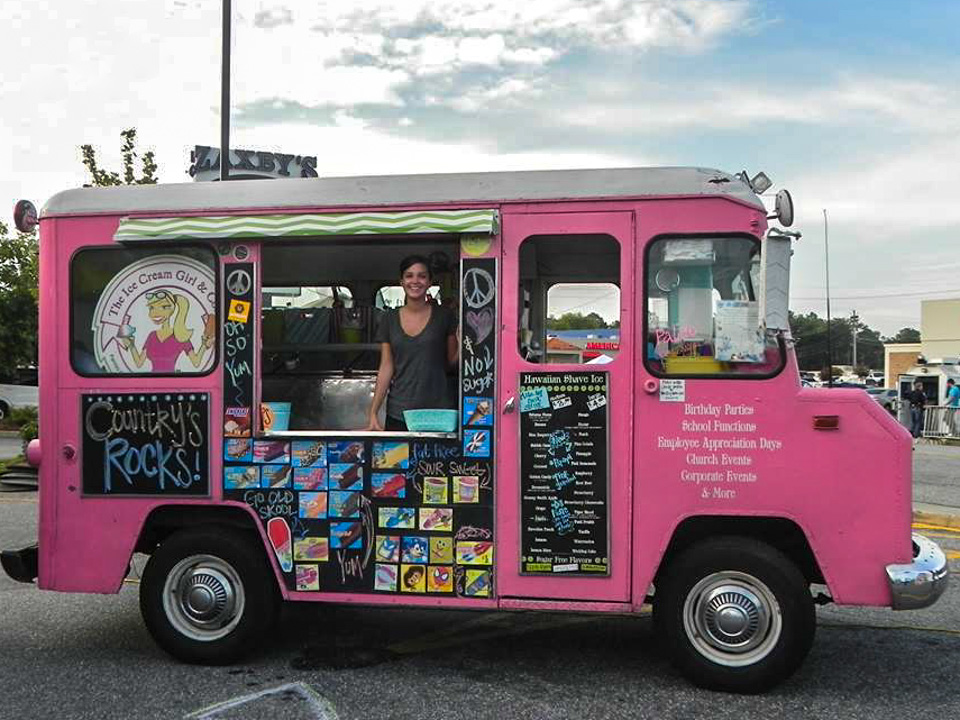 It's not too late, but this week is your last chance to register for the Grand Opening Cash Shopping Spree!
-ep

Week 3 Drawing
Week 3 is coming to a close.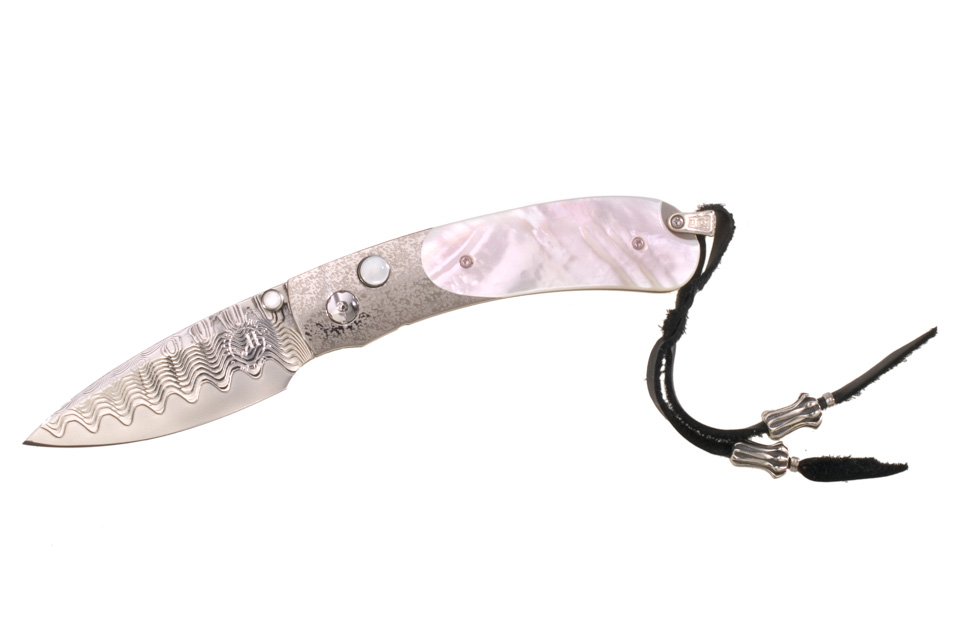 Tues, September 18th, 2013
There's only two days left to enter this week's Grand Opening Drawing. This week's prize is a William Henry Knife. It features a Wave Damascus blade with mother of pearl scales over stippled titanium handle. Valued at $750, it's a standout piece in our knife showcase.
Last week we had 44 entrants. Will you win this week?
-ep

Week 2 Winner
We have a winner in our Week 1 Grand Opening Drawing.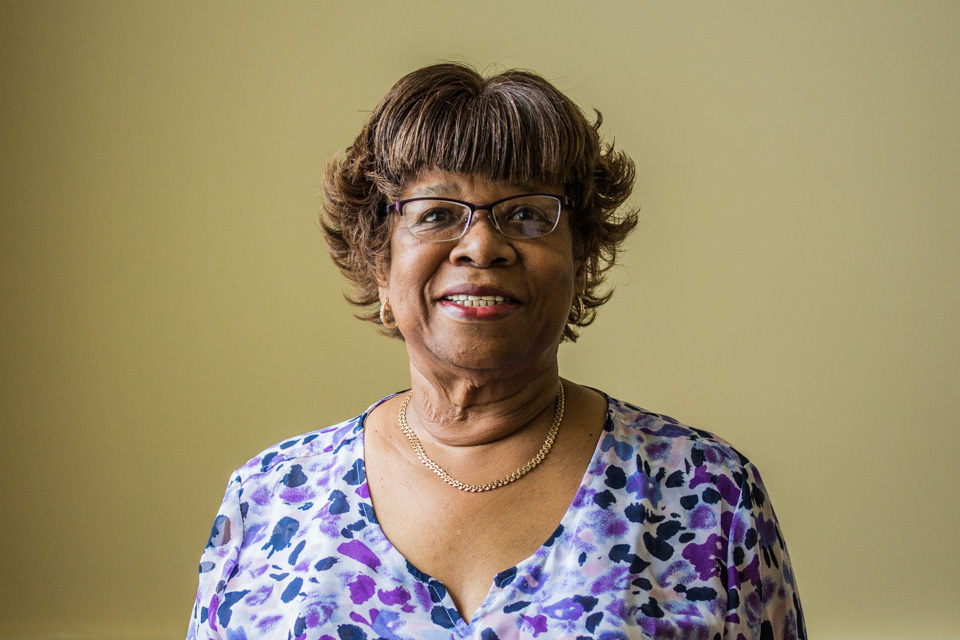 Tues, September 12th, 2013
We have a winner. Carolyn Jenkins came in to pick up a repair, entered the contest, and won a watch from Charles-Hubert, Paris. Retail value of $259.
Congratulations, Caroyln Jenkins!
-ep

Week 2 Drawing
Only a couple of days left to enter.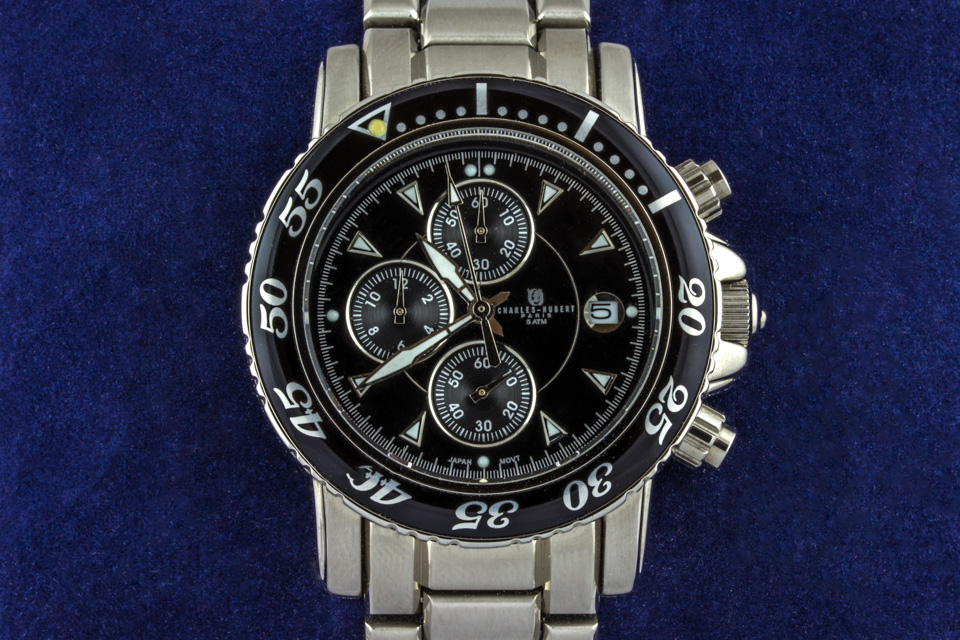 Thurs, September 12th, 2013
Week 2 of our Grand Opening Drawings is coming to a close. Our first customer on Monday will draw the next name. Week 1, we had 55 entrants and the winner walked away with a $300 pair of diamond martini earrings.
This week we are giving away a watch from Charles-Hubert, Paris. Retail value of $259. Share it with your friends!
-ep

Week 1 Winner
We have a winner in our Week 1 Grand Opening Drawing.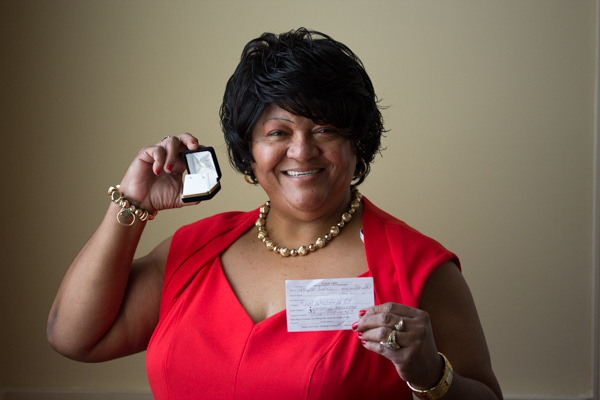 Tues, September 10th, 2013
A great customer, but more importantly a phenomenal high school math teacher, took home a $300 set of diamond martini earrings in our Week 1 Grand Opening drawing.
I can personally attest to Ms. Lee's teaching skills. She was my high school math teacher and also ran the math club. I spent a lot of time in her class room, prepping for competitions with her and Mr. White. Great memories.
Congratulations, Joyce Lee!
-ep

Mission Accomplished!
Moving, Unpacking, and Grand Opening Weekly Drawings.
Tues, September 3rd, 2013
It seems like our moving sale was a year ago. What can I say...contractors are time optimists if nothing else. But it's done. Over.
Now for the Grand Opening. Instead of having a single day event, we're going to do weekly drawings. Every Monday, the first customer through the door will draw a name from last week's entries. It's easy. Stop by and fill out an entry card today. No purchase necessary.
At the end of the Grand Opening, we'll hold one more drawing. This time, it will include all the prior week's entries. If you win, you'll receive a $1,000 in store shopping spree. And if you happened to be in our computer system prior to today (September 3rd), you'll get an extra $1,000 bonus.
-ep